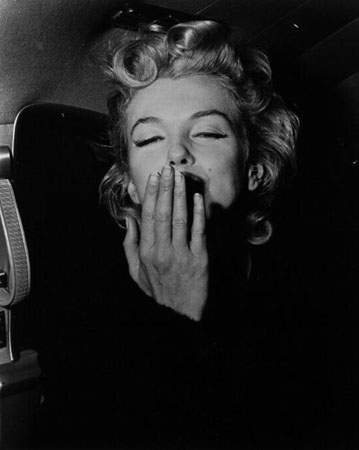 I'm not interested in money, i just want to be beautiful. MM


I decided to start writing blog about her , because my friend introduced me to blogging.
Check her out
.
Biography;
Marilyn Monroe's career as an actress spanned 16 years. She made 29 films, 24 in the first 8 years of her career.
Born as Norma Jeane Mortenson on June 1, 1926 in Los Angeles General Hospital, her mother, Gladys, listed the fathers address as unknown. Marilyn would never know the true identity of her father.
Due to her mother's mental instability and the fact that she was unmarried at the time, Norma Jeane was placed in the foster home of Albert and Ida Bolender. It was here she lived the first 7 years of her life.
"They were terribly strict...they didn't mean any harm...it was their religion. They brought me up harshly."
In 1933, Norma Jeane lived briefly with her mother. Gladys begin to show signs of mental depression and in 1934 was admitted to a rest home in Santa Monica. Grace McKee, a close friend of her mother took over the care of Norma Jeane. "Grace loved and adored her", recalled one of her co-workers. Grace, telling her..."Don't worry, Norma Jeane. You're going to be a beautiful girl when you get big...an important woman, a movie star." Grace was captivated by Jean Harlow, a superstar of the twenties, and Marilyn would later say..."and so Jean Harlow was my idol."
Grace was to marry in 1935 and due to financial difficulties, Norma Jeane was placed in an orphanage from September 1935 to June 1937. Grace frequently visited her, taking her to the movies, buying clothes and teaching her how to apply makeup at her young age. Norma Jeane was to later live with several of Grace's relatives.
"The world around me then was kind of grim. I had to learn to pretend in order to...I don't know...block the grimness. The whole world seemed sort of closed to me...(I felt) on the outside of everything, and all I could do was to dream up any kind of pretend-game."
In September 1941 Norma Jeane was again living with Grace when she met Jim Dougherty, 5 years her senior. Grace encouraged the relationship and on learning that she and her husband would be moving to the East Coast, set in motion plans for Norma Jeane to marry Dougherty on June 19, 1942.
"Grace McKee arranged the marriage for me, I never had a choice. There's not much to say about it. They couldn't support me, and they had to work out something. And so I got married."
Dougherty joined the Merchant Marines in 1943 and in 1944 was sent overseas. Norma Jeane, while working in a factory inspecting parachutes in 1944, was photographed by the Army as a promotion to show women on the assembly line contributing to the war effort. One of the photographers, David Conover, asked to take further pictures of her. By spring of 1945, she was quickly becoming known as a "photographers dream" and had appeared on 33 covers of national magazines.
In the fall of 1946 she was granted a divorce...later saying, "My marriage didn't make me sad, but it didn't make me happy either. My husband and I hardly spoke to each other. This wasn't because we were angry. We had nothing to say. I was dying of boredom."
On July 23, 1946 she signed a contract with Twentieth Century-Fox Studios. She selected her mother's family name of Monroe. From this point on she would be known as Marilyn Monroe to all her fans. She had a minor part in the movie "Scudda-Hoo! Scudda-Hay! and was dismissed as a contract player in August. Rehired in 1948, Marilyn sang here first song in the movie "Ladies of the Chorus".
Johnny Hyde, of the William Morris Agency, became her mentor and lover in 1949. Also, in 1949, Marilyn agreed to pose nude for a calendar. A fact that was to stir controversy later in her career as a superstar.
"Hollywood is a place where they'll pay you a thousand dollars for a kiss and fifty cents for your soul"
Her first serious acting job came in 1950 when she had a small but crucial role in "The Asphalt Jungle" and received favorable reviews. "Clash By Night" in 1952 earned her several favorable notices...Alton Cook of the New York World-Telegram and Sun wrote..."a forceful actress, a gifted new star, worthy of all that fantastic press agentry. Her role here is not very big, but she makes it dominant." Monroe's first leading part in a serious feature was to be in "Don't Bother to Knock", also filmed in 1952.
Marilyn met Joe DiMaggio in early 1952, she was 25 and he was 37. DiMaggio, recently retired from baseball, had expressed a desire to meet this famous star. By February the romance was in full bloom.
"I was surprized to be so crazy about Joe. I expected a flashy New York sports type, and instead I met this reserved guy who didn't make a pass at me right away! He treated me like something special. Joe is a very decent man, and he makes other people feel decent, too!"